New videos and content update
July, 2021
McKay Thomason
Hello Hope Chest Users,
We are so grateful for your continued love for Family History by using Hope Chest! We appreciate your patience and feedback.
We have had some exciting changes within Hope Chest recently. We are implementing more up to date tutorial videos as well as better optimization of the tool.
There is one change that is fundamental to us as a business. In order to support the development of this tool that we all love, we are going to start limiting the basic plan (the free plan) to a total of 5 searches. You will then be prompted to upgrade to a higher version.
Again, we thank you for the passion you have with Hope Chest. As this tool does require support and development to make Family Search easy! :)
Sincerely,
The Hope Chest Team
I didn't get any names! What now?
May, 2021
Rachel Chipman
A search with no results can be frustrating and disappointing. If this happens to you, here's what to do:
If your search was:
*Less than sixty seconds long *Didn't end in a notification that the search was complete *Ended in an error message or *Never showed any signs of moving through the tree
Refresh the page and try again. Also, make sure you have opened the tree of the individual on whom you'd like to start the search. If you click back through your own tree and only highlight the person, Hope Chest will still recognize you as the person whose tree is open and start the search on you.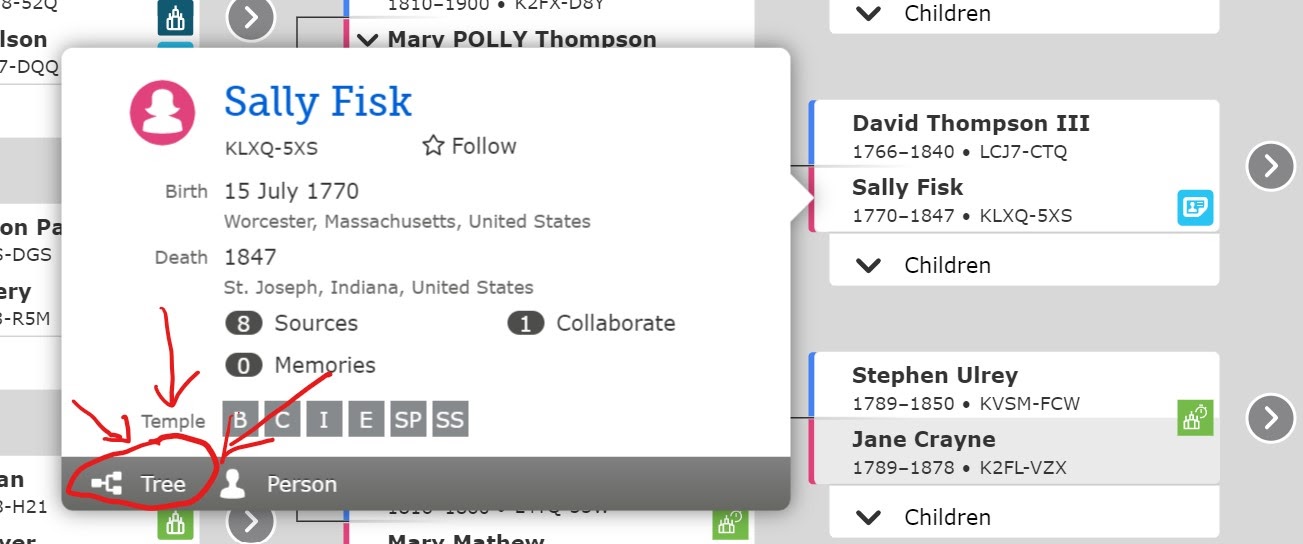 If you're still not getting any search results, your next step should be the Hope Chest log. The log shows in (almost) real time each name Hope Chest checks, whether or not the name was saved, and (if not) why. The log is a fantastic, highly underutilized Hope Chest resource. You should check your log right away if you ever have any questions about your results.
When you're adjusting your settings before your search, make sure the log box is checked: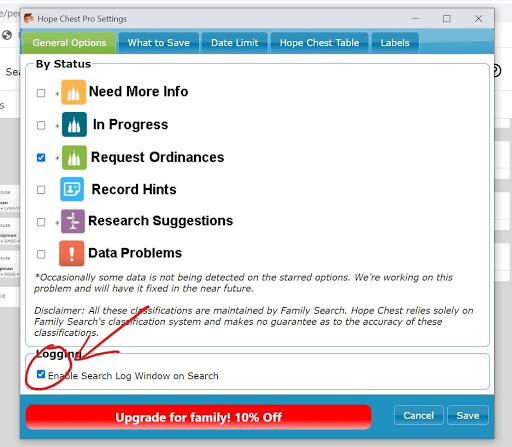 Then, after starting your search, open your Hope Chest menu and click Open Log: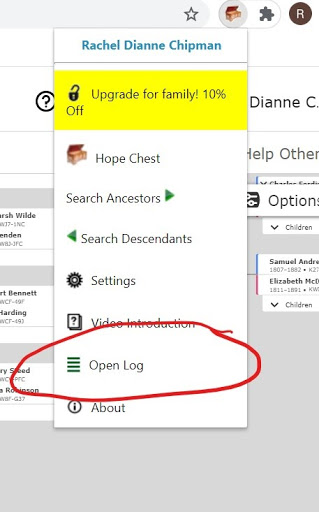 Here's what you'll see: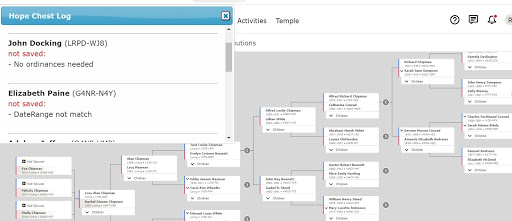 The name and Person ID make it easy to find and check specific individuals, and glancing over the log can make it easy to spot trends: too narrow a date range, names with duplicates, etc. If there's a certain setting eliminating lots of possible results, you can adjust the search settings and try again.
Questions? Email us at support@hopechestsoftware.com!
Family History Service Spotlight: Eternal Reminder
March, 2021
Rachel Chipman
Have you wondered what to do when you find an ancestor that needs temple work done but isn't quite 110 years old? Eternal Reminder is a free service that will send you an email reminder when an ancestor in your FamilySearch Tree turns 110 years old.
Eternal Reminder provides an additional menu option to your FamilySearch screen allowing you to add an ancestor to your reminder list.

Eternal Reminder will keep track of that ancestor, and on their 110th birthday, automatically send you a reminder email with a link to reserve that ancestor's temple work. A single click is all it takes to ensure temple work gets done for all your ancestors!
If you can't remember whether or not you have set a reminder for an ancestor, you can see your pending reminders on the Eternal Reminder website or directly on your ancestor's page in FamilySearch.
You can use the Eternal Reminder website or install the Eternal Reminder Chrome browser extension to set a reminder!
Start using Eternal Reminder today by visiting https://eternalreminder.org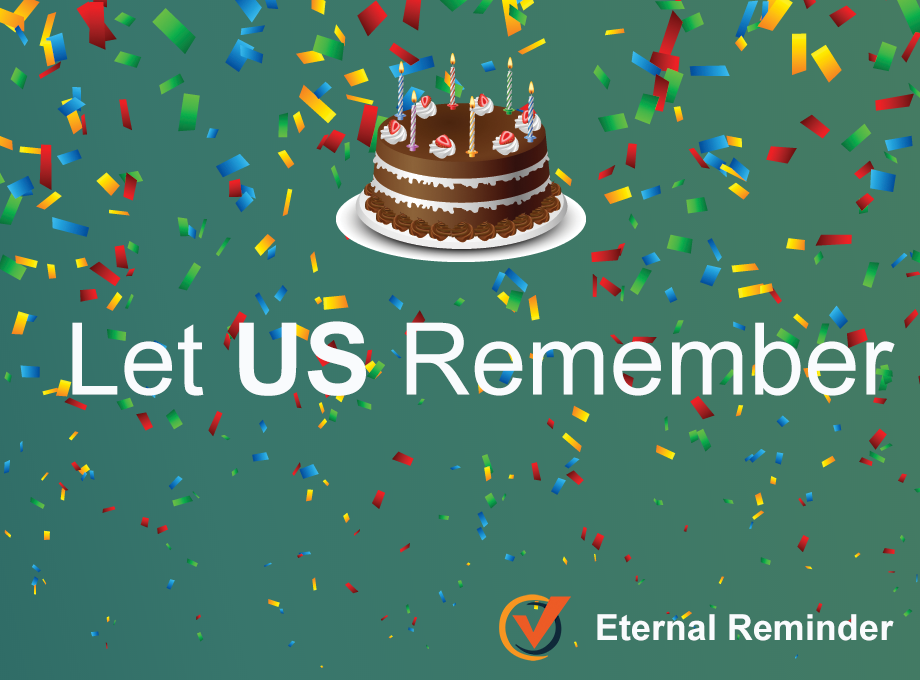 A review from you!
February, 2021
Rachel Chipman
"I LOVE Hope Chest. Mostly I am using it to find out if everything is correct with my distant relatives records. I find duplicates (by the dozens) to merge for my cousins. Lol. I add sources, locate dates and places for them, connect more folks that weren't already in Family Search. It's interesting to know that someone I'd never heard of is my 4th cousin 5 times removed. I'm a Family History Library leader and I use Hope Chest when teaching. I recommend that everyone download it at home." -- Beth
Thanks Beth! We are so happy to hear Hope Chest has been useful to you in your family history work.
We love hearing from our users! What do you love about Hope Chest? Share your thoughts on our Chrome webstore page or email us at support@hopechestsoftware.com!
Minister with Hope Chest!
January, 2021
Rachel Chipman
As local guidelines have discouraged in-person interaction, it has been hard to know how to fulfill our calling to minister to each other. There are only so many times you can leave cookies on the doorstep! If you have exhausted the baked goods options, try family history as your next socially distanced act of service! With Hope Chest Pro, you can search lines you have in common with a family member or friend, export the results, and easily send him or her the list to help their family history research.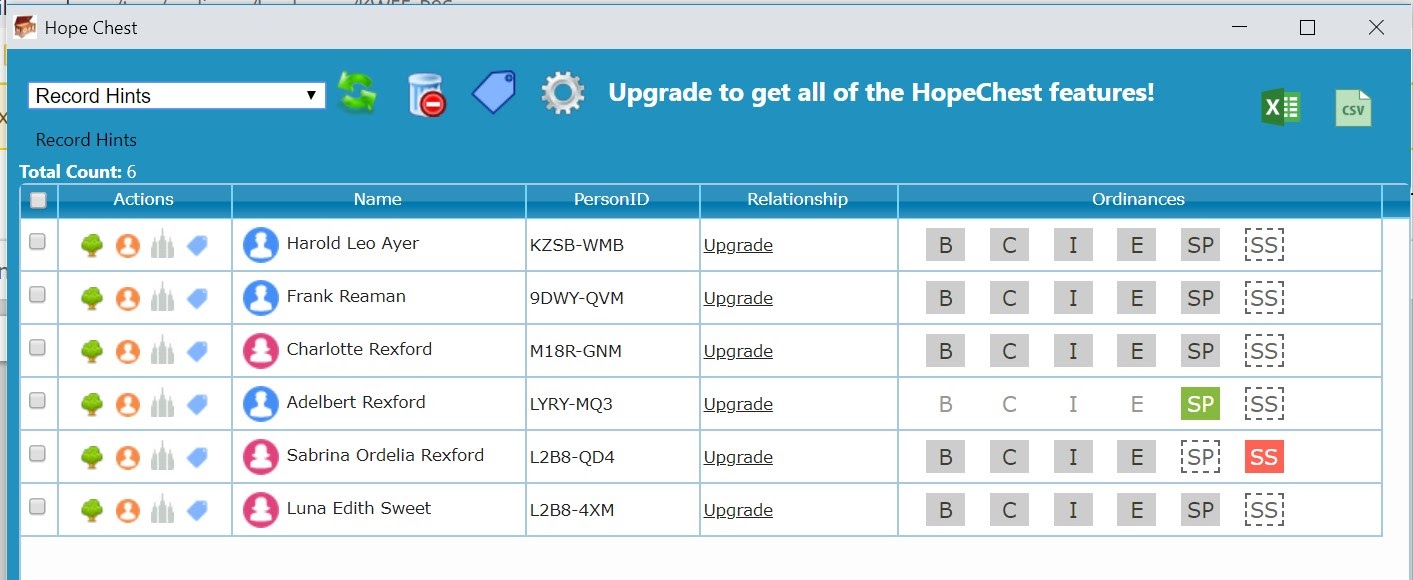 Learning how to do family history can be intimidating. If your friend is just starting out, you can answer questions about Family Search, teach them how to use Hope Chest (hint, hint ;D), and offer to be their on-call expert. Shake up the banana bread-ministering and add family history to your ministering tool kit!
Surprise! Black Friday is here early!
November, 2020
Rachel Chipman
2020 has been a tough year for all of us, so we're bringing the holiday cheer early! We're starting our Black Friday sale TODAY, so upgrade now to get 25% off any Hope Chest subscription! For the person who has everything, a Family Edition upgrade is a gift that will bless the whole family all year. For the person who loves family history but is new to Hope Chest, a Hope Chest Plus subscription is a great way to take their research to the next level in 2020. This is our last sale of the year, so don't wait! Upgrade your Hope Chest account today!
We presented at Family Roots!
November, 2020
Rachel Chipman
We were honored to be invited to present at the Family Roots (virtual) conference this year! If you missed our class, you can watch it here with the other classes. For those of you who have asked for a new Hope Chest video tutorial, this is a great one for both beginner and intermediate Hope Chest users. Watch to the end for a surprise! Thank you to Family Roots for welcoming us to the conference!
That was embarrassing
October, 2020
Rachel Chipman
If you tried to upgrade your account last week, you may have noticed our payment page was down for a few days for maintenance. Our developers added some features to help our support team serve you better, and we are ready and excited for all of you to upgrade. We appreciate your patience as we finished our transition away from PayPal and to our own payment system!
What settings should I use for my Hope Chest search?
September, 2020
Rachel Chipman
If you're new to Hope Chest Pro (or even if you're not), the many options for your search can be overwhelming. Which settings will give you the best results? More important, which settings will ruin your whole search?
The vast majority of settings issues we come across come down to this box right here: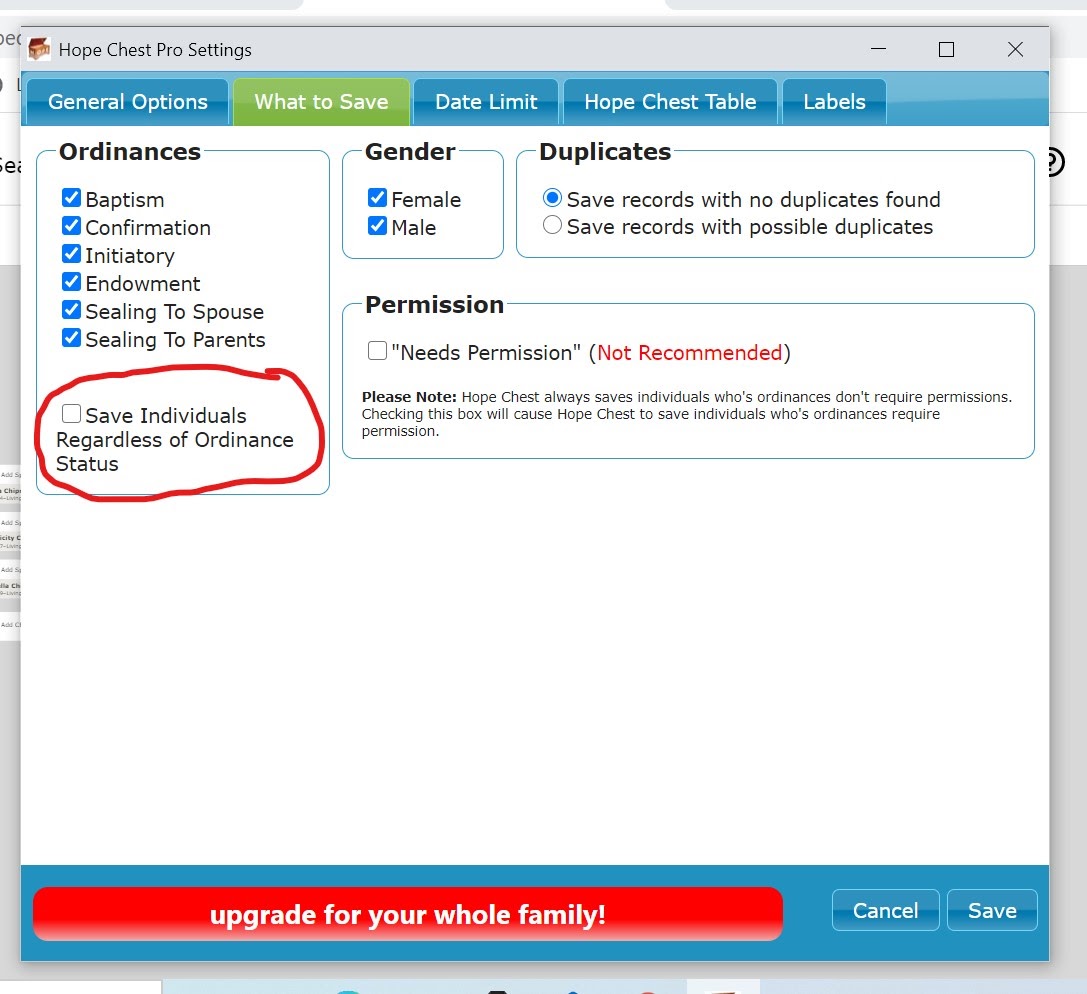 The purpose of the "Save Individuals Regardless of Ordinance Status" box (hereafter referred to as the SIROS box) is to allow users to search for and save names that don't have available ordinances. For example, if you want to find all the names in a line with record hints, the ordinance work is irrelevant-- you can get useful information from a name with some, all, or no ordinance work available. The problem comes when you combine one of the ordinance status options (Request Ordinances, Needs More Info, and In Progress) with the SIROS box. These settings cancel each other out, and Hope Chest just ignores the ordinance status option you selected. You'll probably get thousands of results, for sure, but not of the kind you wanted. If you're searching for one of the ordinance statuses and you'd like to save names with any ordinance available or incomplete, check all the ordinance boxes, like this: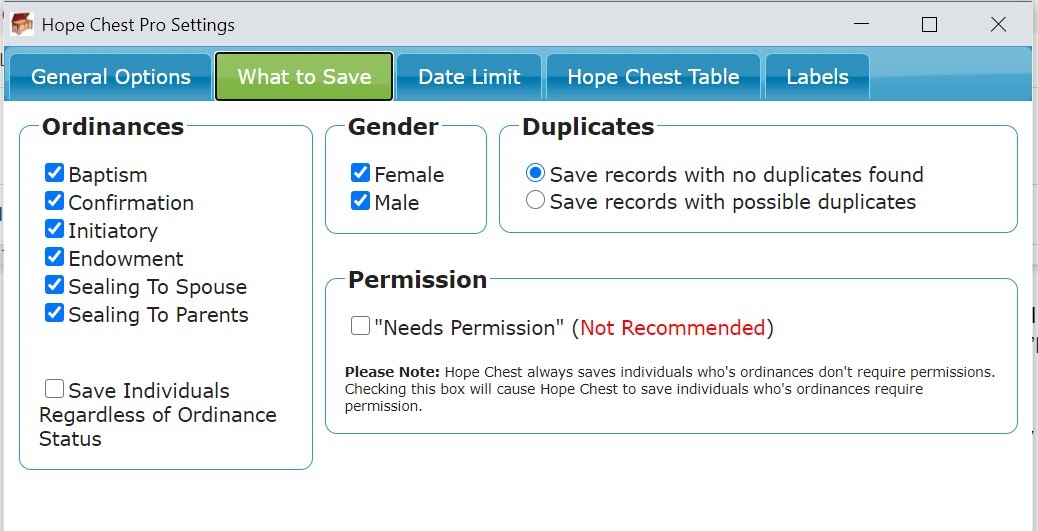 Happy searching! Questions about this post? Suggestions for future blog posts? Email us at support@hopechestsoftware.com!
Using Hope Chest during COVID
August 31, 2020
Rachel Chipman
As of August 31, 2020, 139 temples will be in Phase 1 (living husband-wife sealings only) and 68 temples will be in Phase 2 (all living ordinances). While we are thrilled to see steady progress, we are with you all in missing the opportunity to perform proxy work in the temple.
Without the ability to take family names to the temple, though, you may be wondering if Hope Chest can still help you with your family history research. The answer is a resounding, "YES!!"
Hope Chest can help you get names ready for when the temples re-open, or simply help you in finding work to do on your family tree! Hope Chest Plus and Pro can find: *Individuals born within a certain time frame (i.e. 1820-1970, 1700-1910, etc.) *Individuals of a certain gender *Names with record hints *Names with research suggestions *Names that need more information *Names with data problems And more!
We all miss serving in the temple, but there is still much work we can do while the temples are closed. Hope Chest is still here during the closure to help you with your family history research! If you have any questions about using Hope Chest, you can check the FAQ page here or email us at support@hopechestsoftware.com!
Why is there a puzzle piece where my Hope Chest icon is supposed to be?
August 8, 2020
Rachel Chipman
Chrome has recently made some changes to the toolbar that affects how extensions are displayed. The puzzle piece icon is your new extensions menu.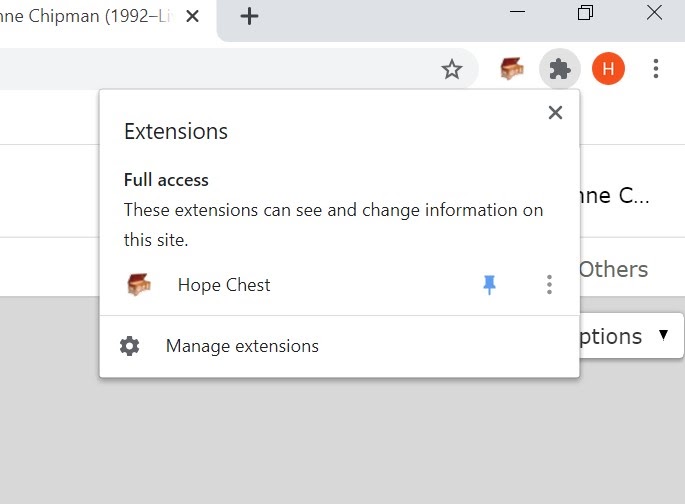 When you click the puzzle icon, you'll see all your extensions, including Hope Chest. You can use Hope Chest as usual by clicking the chest icon in this menu, or you can click the pin (as I have done above) to "pin" the Hope Chest icon in its old place next to the URL bar.
It looks like a big change, but Hope Chest is as ready as ever to help you with your family history research!
Hope Chest Promo Video
June 4, 2020
Checkout out our new Promo video!
New Facebook Page
May 1, 2020
Come like our Facebook page!
We are starting our Facebook page so that we can start to communicate with you! Send us a review, or post a feature suggestion, or just say hi!
v10 Released!
Feb 21, 2020
Hello Hope Chest users,
Wow, it has been a BIG month here at Hope Chest!
A few weeks ago, Eric made the painful decision to put Hope Chest up for sale. Between his full-time job, his calling as a bishop, and his family responsibilities, he felt he could no longer give Hope Chest the time and attention it deserved. Many of you saw his announcement and reached out with love and support— thank you.
When Eric decided to move on, we seriously considered calling it quits, but your passion for Hope Chest helped us realize there is still a demand for quality family history programs. We are thrilled to announce Spencer Thomason, Eric's longtime friend and colleague, has decided to take over Hope Chest. Spencer is an experienced programmer and businessman with a wonderful vision for Hope Chest. With his leadership, we anticipate Hope Chest will be around for years to come.
Spencer has completely revamped Hope Chest. There will be big changes— most we know you'll love, and a couple that may be less popular. We ask for your patience and support as we work to bring you a sustainable, polished program.
We have turned off all traffic to the Hope Chest server. You won't have access to your saved names and labels. Hope Chest will be unavailable for the rest of Monday (February 24, 2020). On Tuesday (February 25, 2020), please restart your computer so Chrome can update Hope Chest to version 10. After the computer reboots, you'll be able to log into Family Search in Chrome as usual and check out the new and improved Hope Chest!
We know we would have never gotten this far without the support of our Hope Chest users. Thank you again for your excitement, your love, and your support. We feel honored to be hastening the work with you.
Sincerely,
The Hope Chest Team